What's New
2021.11.04
FAQ when purchasing lift ticket on the WEBSHOP
Thank you for using Hakuba Happo-one Webshop please refer to our official Home Page (HP) Hakuba Happo-One WEBSHOP
<Webshop Account page FAQ can also be found on this link>
〇 The confirmation mail has not been sent to my registered email address yet. What should I do?
・Please check all your folders in your email inbox,  it may be sorted as spam mails.
・If you use your mobile phone mail or free email such as -@gmail.com, -@yahoo.co.jp or -@hotmail.com, the email sent from our WEBSHOP may be automatically rejected by your email provider.
Please set up (acknowledge) our official registered address "no-reply@happoone.co.jp" as your specified email address.
Or please set up "happoone.co.jp" as your domain specified receivable address.
〇 A QR code has not been sent to my registered email.
It should be sent to the same registered email address as "the confirmation email" you received. If you cannot find it, you can check the QR code on your "My account" pages. If all else fails, please try the following.
※The below images illustrates a purchase from the WEBSHOP using a mobile phone.
①Select the menu in the upper left corner on the purchase screen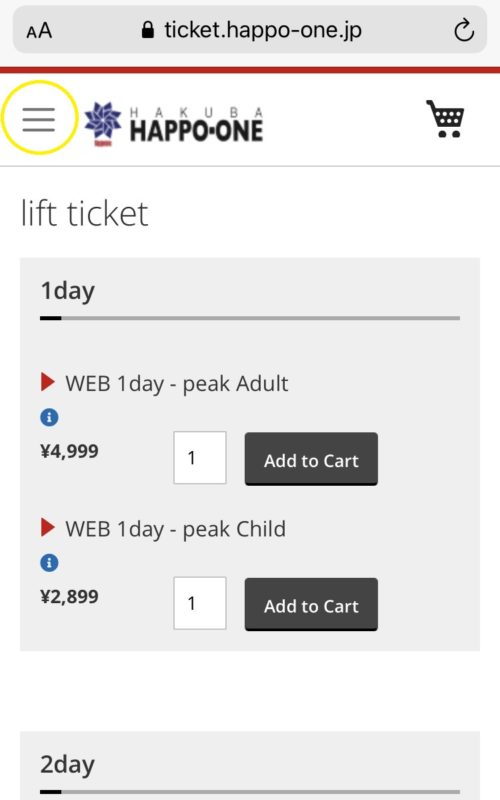 ②Select "Account".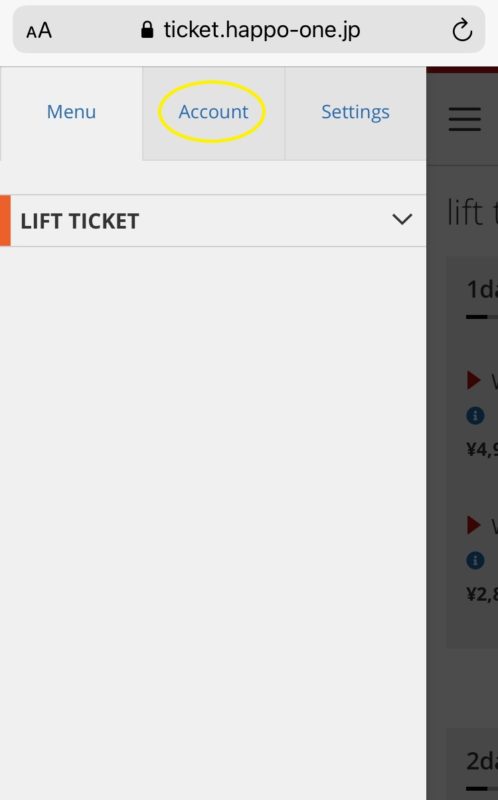 ③Select "My account" (If you have not logged in. please sign in to "My account" with your registered email address and password again.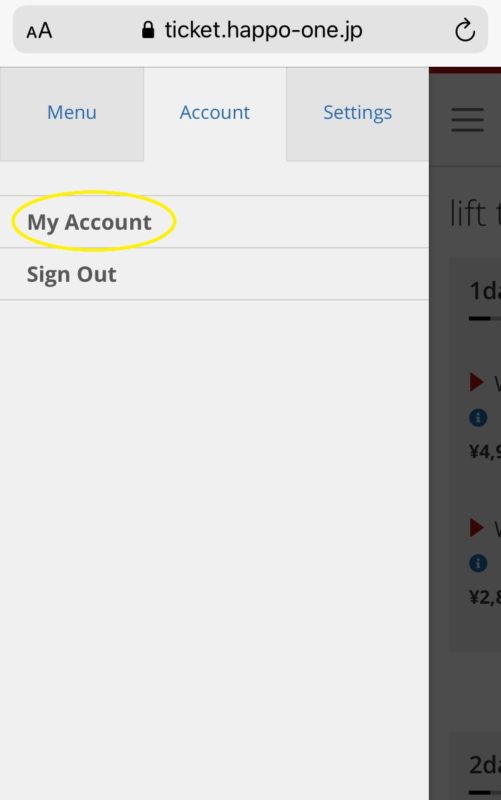 ④Click "upward arrow" in the upper right corner to display all contents in My account, and then click the "QR code" at the bottom of the screen, you can confirm the QR code.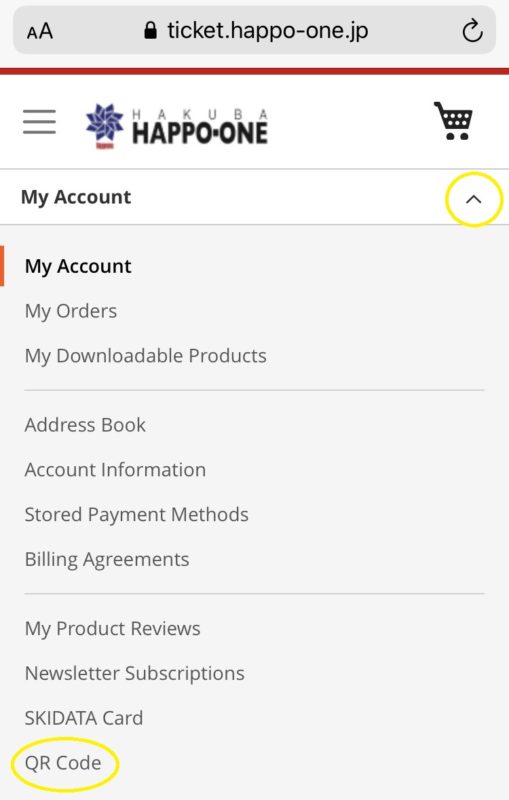 〇 Where can I pick up (redeem) the lift ticket?
The lift ticket can be redeemed all ticket offices at Happo-one Ski Resort.
・Sakka & Kokusai ticket offices, please hold the QR code over the vending machine to redeem your lift ticket.
It will print automatically once the QR can has been scanned at the machine.
・Gondola & Nakiyama ticket windows, please present the QR code (Pick up) to the ticket window staff to redeem your lift ticket.
〇 What is the 4 days, 6 days and 8 days lift ticket? 
This is FLEXI lift pass which can be used for 4 days, 6 days and 8 days at any time during the winter season. There tickets are non consecutive and are very convenient to use in a season.