What's New
2022.05.05
Sat 28 May Sake Brewing Project – Rice Planting Tour 2022
You make Happo Sake! The sake brewing project started in 2017. Thanks to your support, our Junmai Ginjo "Hakuba Happo-Kurobishi" has been very well received every year. Finally, the project has begun its sixth year!
The rice fields are located in the eastern mountains of Hakuba Village, a small farming community by the name of Nodaira. Standing from the high points in Nodaira you can see amazing and spectacular alpine views of Japan's Northern Alps. After working up a sweat planting rice, a barbecue will be served! We hope you will join us. Children can also participate in this fun experience so please bring the whole family to enjoy a half day in the fields of Nodaira.
Date: Saturday 28th May 2022, 8:30am to 13:00
Capacity: limited to 50 people
The tour is very popular and we recommend to make a reservation as soon as possible. For applications and inquiries, please contact Happo-one Tourism Association  ☎0261-85-2870 (8:00-17:00)
*In the event of inclement weather and any other unexpected occurrence, please note that the event may be cancelled or the process may be amended on the day or days prior to the event.
Click here to download the PDF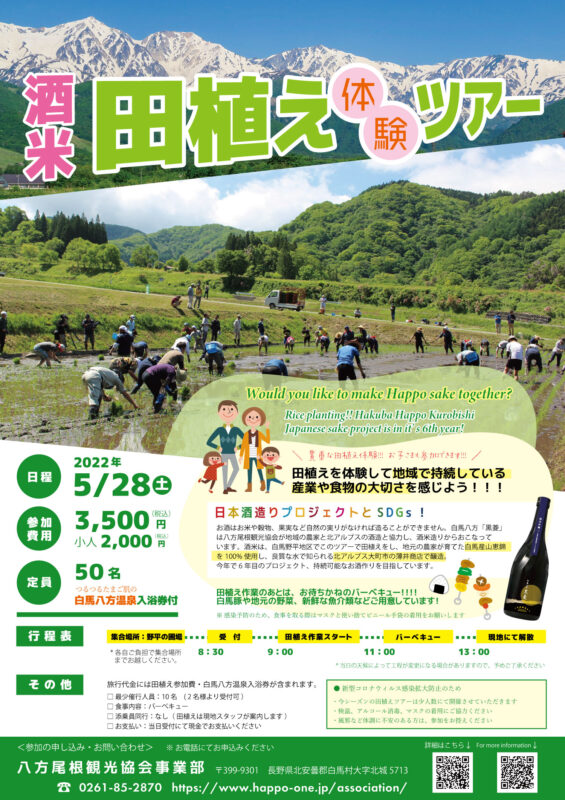 Meeting place: Nodaira area, there is a plaza and a car park in front of the terraced rice fields. This is the reception area.
Click on the map link for details.