Events & Competitions
2022.02.23
76th Happo Riesen Slalom Course & Results
Due to the 76th Happo-one Riesen Slalom event, the Riesen Slalom course to Nakiyama slope will be closed from 8:00am on Wednesday 23 February until the end of the event on Friday 25 February.
We apologize for any inconvenience this may cause and ask for your understanding and cooperation in order to ensure the safety of the event.
More information about the HP Happo Riesen Slalom Competition
~To all competitors
We are now preparing to send out the bib race numbers.
Please remember to bring your bib/s with you on the day of the event as they will be sent out around the 16 February.
※The illustration below represents the competitors race course (red line) and the non-competitors ski course (blue line) descending to Nakiyama public ( Nakiyama #3 triple lift) or via the cat-track to Shirakaba-Gondola. Caution to non-competitors, please descend the Riesen Slalom course and cat-tracks carefully.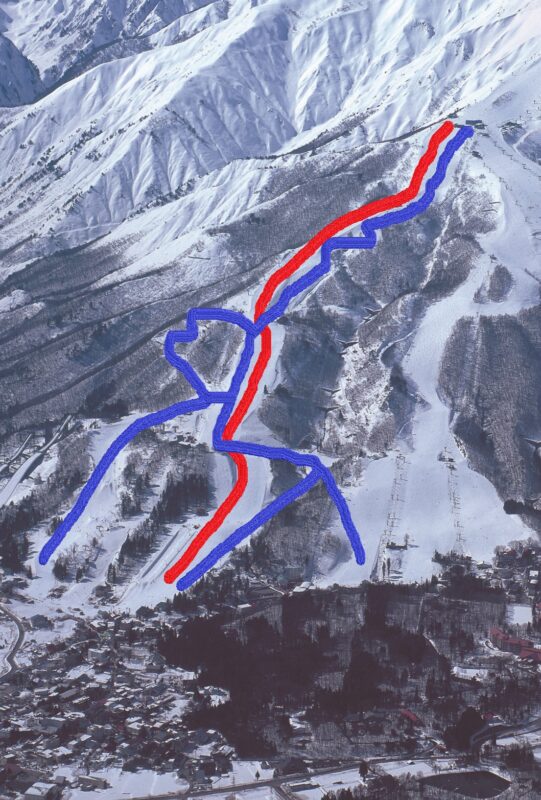 76th Happo Riesen Slalom Rankings and Results
During the event, the QR code and link below will allow you to view the preliminary rankings and times in real time. All participants are requested to check from their smartphones or other devices.
DAY 1 Thursday 24 Feb RS RESULTS