Community projects
Japan Sake Brewing Project
One of the great community projects of Happo is the planting, harvesting and brewing of the local sake – Hakuba Happo Kurobishi. The project started in 2017. Participants can also join with Hakuba locals to experience the entire process of Japanese sake making, beginning from the planting and harvesting of sake rice. The theme is「You make Happo sake」‼
Sankei Nishiki, a sake rice newly developed by Nagano Prefecture, is grown in the nearby rice fields in Nodaira, Hakuba Village.
Every year, during the rice planting and harvesting season, we hold a hands-on tour. After the work, we celebrate with a small barbecue and taste local sake! We also set up a footbath with Hakuba Happo Onsen spring water to rest those weary legs and enjoy the fine views from this great spot!
---
2023 New Sake "Hakuba Happo Kurobishi Origarami Unfiltered Nama Genshu
Size: 720ml / 300ml
Manufacturer: Usui Shoten Co.
Classification: Junmai Ginjo Sake
Alcohol content: 17%
Rice used: 100% Sankei Nishiki from Hakuba Village, Nagano Prefecture
What is "Origarami"?
After the fermented mash (called "moromi") is squeezed, the sake that first flows out contains many coarse particles of rice and yeast, making it cloudy and white. The "ori" floats in the sake after squeezing the mash. Origarami is characterized by a thin, dark color and a full-bodied flavor derived from the rice and yeast. In this case, the raw sake, which is produced without any heat treatment (called "hi-ire")also has a slight foaming sensation. This is what characterizes the full flavor of the rice and its freshness.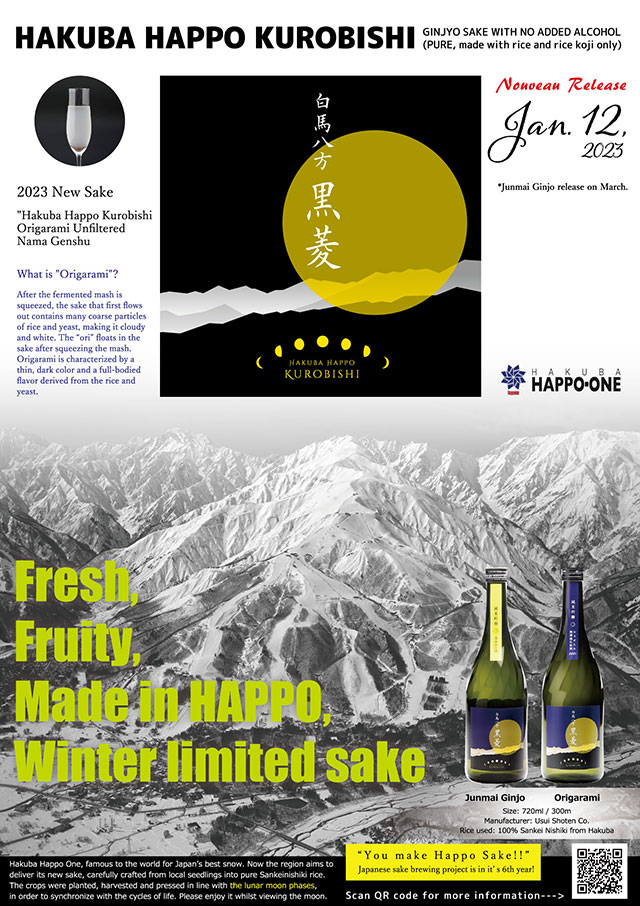 2023 「Hakuba Happo Kurobishi Junmai Ginjo Hiire 」
Size: 720ml / 300ml
Manufacturer: Usui Shoten Co.
Classification: Junmai Ginjo Sake
Alcohol content: 16%
Rice used: 100% Sankei Nishiki from Hakuba Village, Nagano Prefecture
What is "Hi-ire"?
By heating and then bottling freshly made sake as soon as possible, the freshness can be preserved and the mellowness is brought out. This flavor of Hakuba Happo Kurobishi is produced in the spring. When you take a sip the taste is clear in your mouth, a gorgeous aroma swells and a clean rice flavor disappears quickly, ready for the next sip!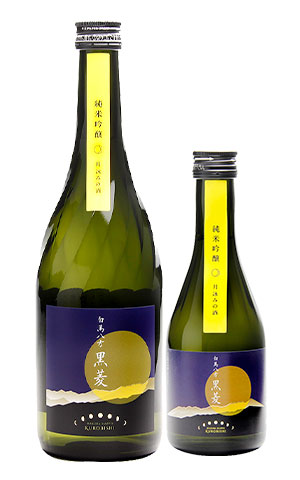 ---
The Japanese Sake Brewing Project takes place at the terraced rice fields in Nodaira District and the fields in Happo District. Sake brewing and pressing is prepared and bottled by Usui Shoten, the brewery of Hakuba-Nishiki.
The name of the sake, Hakuba Happo Kurobishi, was chosen by a public vote and Hakuba Happo-one is one of the most popular slopes and viewpoint to enjoy when skiing or evening in the summer for hiking. Kurobishi has been loved by many people as in particular the greater area is known for backcountry skiing and mountaineering. The label has a moon on it. This sake has a story behind it: rice is planted on an auspicious day, brewed on a new moon, and pressed on a full moon. This is commonly known as "Tsukiyomi". This year, we will deliver it pressed at the new moon. May all those who drink Kurobishi be blessed and hold happiness in their hearts when thinking of the snowy landscape and mountains in Hakuba.
The photos of Japanese sake brewing project event
Facebook – Hakuba Happo-one Sake Project
Happo Yummy

Hakuba Happo is known as the birthplace of Japanese minshuku (family-run bed and breakfast lodging).
Happo Yummy is a local cuisine that uses eight or more seasonal and unique ingredients locally produced in the Hakuba Happo area and traditionally served at minshuku inns of Shinshu (old province name of Nagano prefecture).
Shinshu Hakuba is blessed with great nature, clear air, and mineral-rich water from the mountains, and with distinct four seasons the environment is ideal for agriculture. The area also offers a large reservoir of edible wild plants and mushrooms, mountain trout and other freshwater fish from the clean rivers originated from Hakuba, and an ideal natural setting to breed Hakuba pork.
Dishes cooked using many of these locally grown fresh ingredients are not only tasty but also very healthy. Containing eight or more kinds of local produce, they are expected to improve and enhance our immune system, making us more resistant to modern diseases and allergies.
Happo Yummy supports the local product as well as this local consumption model as a reference of dietary education for youth. Each lodge offers unique specialties - some restaurants combines eight or more local ingredients in the course menu; some contain more than eight local produce in a single dish.
Visit Hakuba Happo nestled in the grand North Japan Alps to enjoy the rich gifts of nature through Happo Yummy.
Happo Yummy - List of Affiliated Inns/Restaurants