Community projects
Japan Sake Brewing Project

One of the great community projects of Happo is the planting , harvesting and brewing of the local sake – Happo Kurobishi. Participants can also join with Hakuba locals to experience the entire process of Japanese sake making, beginning from the planting and harvesting of sake rice. The brand of the sake is Hakuba Happo Kurobishi.
In both the first year (2018) and second year (2019), NOUVEAU, a welcome was held to taste the new brew (crude sake before filtration) of the year pressed on a mid-winter full moon night. The brand became famous as the limited offerings sold out within a few days. The Japanese Sake Brewing Project takes place at the terraced rice fields in Nodaira District and the fields in Happo District. Sake brewing and pressing will be done by Usui Shoten, the brewery of Hakuba-Nishiki.
Please join us for the three-series annual events held in May, October, January.
---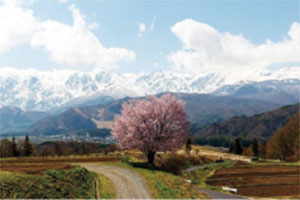 Japan Sake Brewing Project, the rice fields are located in Nodaira District located on the opposite side of Happo-one Resort. The land is a beautiful spring destination with North facing aspects exhibiting splendid alpine views of Happo-one. A cherry blossom tree stands alone in the center contrasting the overall beauty surrounding the fields.
Japanese Sake Brewing Project Events
3rd season running event.
1st event:
Saturday May 18, 2019 10:00 a.m. - Rice planting at the rice fields in Nodaira District Project participants will hand-plant rice seedlings together with volunteers and residents of Nodaira District.
2nd event:
Saturday October 5, 2019 10:00 a.m. - Rice harvesting at the rice fields in Nodaira District Project participants will cut and dry the rice together with volunteers and residents of Nodaira District. After a part of the field has been harvested, we will enjoy a feast of food and local sake. The BBQ event and celebrations are a lot of fun and offer a chance to meet and mix with everyone.
3rd event:
Saturday 18th January 2020 completion of sake brewing - the new sake will be pressed on the night of full moon.
---
Hakuba Happo Kurobishi
Junmai Ginjo-shu: brewed with traditional methods using highly polished rice, no alcohol added.
Released for sale at major liquor stores in Hakuba Village and seven eleven stores. Happo Kurobishi is also on sale to consume in several of the local Izakaya Eateries in town.
Quantities sold: 720ml, 300ml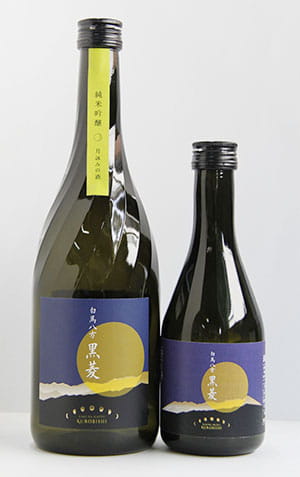 Facebook – Hakuba Happo-one Sake Project
Hakuba Happo Kurobishi Reports and updates on the progress of Japanese Sake Brewing Project are posted on Facebook. To witness this new historic movement, please visit our Facebook page created by many people who love Hakuba Happo-one.
Happo Yummy

Hakuba Happo is known as the birthplace of Japanese minshuku (family-run bed and breakfast lodging).
Happo Yummy is a local cuisine that uses eight or more seasonal and unique ingredients locally produced in the Hakuba Happo area and traditionally served at minshuku inns of Shinshu (old province name of Nagano prefecture).
Shinshu Hakuba is blessed with great nature, clear air, and mineral-rich water from the mountains, and with distinct four seasons the environment is ideal for agriculture. The area also offers a large reservoir of edible wild plants and mushrooms, mountain trout and other freshwater fish from the clean rivers originated from Hakuba, and an ideal natural setting to breed Hakuba pork.
Dishes cooked using many of these locally grown fresh ingredients are not only tasty but also very healthy. Containing eight or more kinds of local produce, they are expected to improve and enhance our immune system, making us more resistant to modern diseases and allergies.
Happo Yummy supports the local product as well as this local consumption model as a reference of dietary education for youth. Each lodge offers unique specialties - some restaurants combines eight or more local ingredients in the course menu; some contain more than eight local produce in a single dish.
Visit Hakuba Happo nestled in the grand North Japan Alps to enjoy the rich gifts of nature through Happo Yummy.
Happo Yummy - List of Affiliated Inns/Restaurants