Hiking Guide
Happo-one means Happo Ridge, the geographical location of the mountain range extends to Mount Karamatsu summit is perfectly situated so that mountaineers and hikers can enjoy panoramic views from all cardinal directions (North, South, East and West). The hiking course to Happo-ike Pond is a popular hiking route dotted with scenic spots along the way. On clear day visitors can see 11 of Japan's 100 most famous mountains, including the highest mountain in Japan, Mount Fuji. If you intend to start your hike from Kurobishi Plateau located on the north side of Happo-one, you will be able to see the magnificent scenery of Japan's Northern Alps. This region in Nagano Prefecture is home to many precious wildflowers, plants and endemic species such as the Japanese serow (mountain deer) and grouse (wild bird).
Happo-one is a summer resort for everyone, you can ride the lift and take lunch on the mountain, try tandem paragliding at Usagidaira, take a dip in the jacuzzi at Hakuba Mountain Beach, stay overnight at Kitaone Highland, join a yoga retreat, rest your legs in the foot onsen or take a walk in the Nature Flower Park. There are several lift lines open during the summer months, check below for further information about business hours, lift tickets and entry of each location.
Happo Alpen Line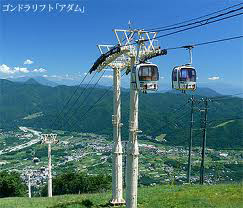 (Ride Gondola-Alpen quad-Grat quad lifts) total distance 3,445m
Starting at the foothills of Happo-one Ski Resort at 770m the lifts service guests to the top lift at 1,831m. The mountain hut Happo-ike Sanso is a charming venue where you can enjoy views, take lunch and/or stay overnight to gaze at the night sky and take an early morning hike to Happo-ike Pond.
Kurobishi Line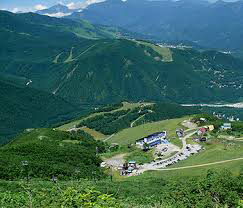 MY CAR, drive to Kurobishi Plateau and ride Kurobishi #3 pair-Grat quad lifts
Drive or ride on the 9km winding forest road to Kurobishi Plateau. The alpine scenery is stunning on a clear day. The pair lift is located mid-mountain at 1,680m. We recommend to ride this lift to access Grat quad and further hike up to Happo-ike Pond. The car park has approximately 200 spaces.