Restaurant & Shop
Happo-one On Mountain Dining Guide
You can enjoy locally produced food in any of our restaurants.
*Please note that menu contents, prices, opening hours, etc. are subject to change.
Toilet
Vending machine
Shop
Coin locker
Information
Kid's room
Day nursery
Nursing room
Free Wi-Fi
Heated Tobacco only
No smoking
Snow Plaza Sakka BEAR'S CAFÉ
Business Hours
All day Snacks 9:00〜15:00
Winter Lunch 11:00〜15:00
Our Recommendation
SAKKA Special
・Beef Lasagna
・Mushroom Pasta
・4 types of Burger
・3 types of Salad
・Kids menu
◎Sakka specialities in addition to KUROBISHI MENU
Henry's Bar & Grill (Snow Plaza Sakka)
Business Hours
Lunch Time 12:00〜15:00 (14:30 L.O.)
Dinner Time 17:00〜22:00 (21:00 L.O.)
Fine dining fusion cuisine using local Hakuba and Shinshu produce.
Serving lunch and dinner menu
Dinner reservation is essential
TEL
0261-85-0856
Cafeteria Yeti

(Usagidaira Terrace 2F)
We recommend a variety of menu items such as curry, Shinshu's famous sauce pork cutlet rice bowl and rice bowl with deep fried chicken. New menu uses local ingredients.
Our Recommendation
Shinshu Smoked Salmon and 16 Grain Rice Salad
Bean Curry with Mushrooms and Vegetables from Shinshu
Mixed pizza with Shinshu mushrooms and butterbur mis
Business Hours
8:30〜16:00
Food 9:00~15:00
Drink 9:00~15:30
Seats
350 seats available
Ramen ChaCha

(Usagidaira Terrace 2F)
Enjoy our Miso Ramen made with a combination of soup stock and pork broth, or Soy Sauce Ramen made with bonito broth and chicken stock!
Our Recommendation
Shoyu Ramen
Miso Ramen
Business Hours
Open on weekends and New Year holidays from mid-December.
11:00~14:00
For inquiries contact: Usagidaira Information Center
TEL: 0261-72-2258
Seats
350 seats available
Karuizawa Primo Pizza & Pasta

(Usagidaira Terrace 1F)
Italian restaurant serving hot iron plate pizza and authentic pasta is a long-established in Karuizawa. The 30cm diameter pizza is served on a hot iron plate, which is perfect for cold ski resorts ! We also use ingredients from local Shinshu, and our pasta with nozawana and pizza with Shinshu mushrooms are very popular ! Unusually for a ski resort, there are also sofa seats where you can enjoy a leisurely meal.
Our Recommendation
Pasta: 980 yen~
Pizza: 1,580yen~
Curry: 1,180yen~
Morning set from 550 yen~
Bottled wine from 3,200 yen~
Business Hours
9:00 - 16:00 (L,O 15:00)
(Morning: 9:00-11:00, Saturday, Sunday and public holidays: 9:00-10:30)
Seats
60 seats available
There is a space where you can take off your boots and clothes to dry off while eating.
HAPPO USAGIDAIRA CAFE

(Usagidaira Terrace 1F)
Located at mid-station just by the exit of the Gondola.
Before you start your ski session on the slopes, stop by for a freshly grounded cup of cafe latte or mocha. A vriety of breads and sweets biscuits are prepared if you skipped breakfast or are in need of a delicious snack.
Our Recommendation
Café latte

:

¥460
Café mocha

:

¥540
Drip coffee

:

¥390
Business Hours
Irregular business hours
For inquiries contact Usagidaira Information Center
TEL: 0261-72-2258
Sun Terrace Panorama

(Panorama slope 2F)
Authentic Italian cuisine at your fingertips!
Sun Terrace Panorama is all about Italy! We have a variety of Italian dishes such as pasta and panzerotti, as well as desserts, sweets, and drinks. Panorama slope is one of the best locations on the mountain to enjoy lunch or a break. For the daily menu & latest pictures to get your tastebuds fired up please check out Sun Terrace Panorama Facebook or Instagram!
Oharu café is on the first floor and serves a full range of side dishes both sweet and savory, order something light with a beverage and take in the lounge atmosphere right in front of the beautiful Panorama slope.
Our location is at the base of Panorama slope and the nearest lifts are the Gondola (exit right and ski down) or take Kokusai #1 pair lift (ext right and walk 3 minutes to the circular glass building) at Sun Terrace Panorama. We also now have a store inside Sun Terrace Panorama selling the latest Mont-bell products!
Our Recommendation
Spaghetti Bolognese
Spaghetti with chicken thigh in a spinach cream
Freshly fried potatoes and chicken
Café Menu
Cannoli Siciliani
Chef's homemade rich pudding
Panna cotta with berry sauce
Tiramisu
Various types of gelato
Business Hours
9:00~15:30
※2F open until 15:00
Restaurant 10:00~ (L.O.14:30)
Café 9:00~ (L.O.14:30)
Seats
2F: 200 seats available
Rest House Kurobishi BEARS CAFÉ
Our Recommendation
Variety of Curry 4 Japanese style, 3 Indian style & 3 Thai style curry
Pizza of the day
Salmon & Spinach Pasta
Gourmet coffee
2 taps of draft beer
Pork Katsu Curry & Rice
Chicken Tikka Masala Curry Rica & Naan
Tom Yum Kun Udon Noodle Soup
Operating hour
All day Snacks 9:00〜15:00 (14:30 L.O.)
Winter Lunch 11:00〜15:00 (14:30 L.O.)
Capacity
150 seats available
Café & Restaurant Pilar

(Alpen quad lift exit)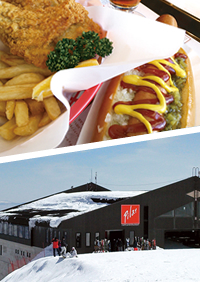 Full table service Italian restaurant
Our three and four course menu, abundant with locally produced fresh ingredients are the Chef's recommendation. We also offer café space within the restaurant & an extensive alcoholic and non-alcoholic menu. Enjoy Japrès ski with fine views.
Our Recommendation
Curry with chunky beef
Crispy Chicken Cutlet Curry
Business Hours
Cafe: 8:00〜16:00
Restaurant: 11:00〜
Cafe and Restaurant is closed on Tuesdays
Corona Escape Terrace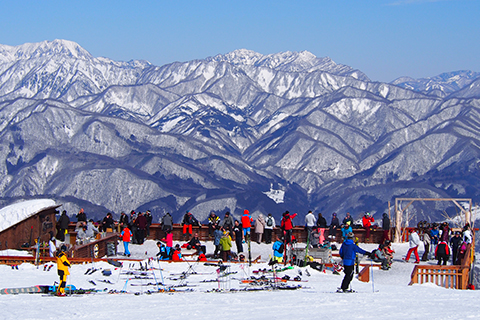 Our Recommendation
Corona Extra Bottle
Corona Bucket (5 Bottles)
Giant Marshmallow
Tornado Sausage
Business Hours
Closed
For inquiries contact Usagidaira Information Center
TEL: 0261-72-2258
*Depending on weather conditions, we may close or change business hours without notice
HAKUBA WHITE HORSE Bar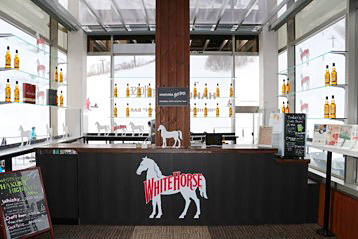 Our Recommendation
WHITE HORSE Hakuba Highball
Craft Beers
Cocktails
Business Hours
Closed
For inquiries contact Usagidaira Information Center
TEL: 0261-72-2258
HAKUBA MOUNTAIN BEACH
HAKUBA MOUNTAIN BEACH will not be open for the 2021-22 season.
We apologize for any inconvenience and thank you for your understanding.
Have you ever experienced a sauna on the rooftop if a ski resort! For the first time this winter, we welcome you to Hakuba Mountain Beach. Inside the Gondola we have a dry sauna. Enjoy the spectacular views of Hakuba, before cooling off in a refreshing cold jacuzzi. The "Gondola Sauna" is the perfect way to reinvigorate your mind and body!
Our Recommendation
Pork & Shinshu Beef Smoked Cheeseburger
Pulled Pork Burger
Shinshu Ginjo Smoked Bacon
Hot Moca Chocolate
Business Hours
Closed
For inquiries contact Usagidaira Information Center
TEL: 0261-72-2258