Restaurant & Shop
Happo-one On Mountain Dining Guide
You can enjoy locally produced food in any of our restaurants.
*Please note that menu contents, prices, opening hours, etc. are subject to change.
Toilet
Vending machine
Shop
Coin locker
Information
Kid's room
Day nursery
Nursing room
Free Wi-Fi
Heated Tobacco only
No smoking
Snow Plaza Sakka

(Sakka slope)
You can enjoy meals, authentic sweets and twelve different types of ice cream in this spacious cafeteria.
We have a menu that uses Hakuba Happo's famous 「Ohyokkuri Nabe」, Shinshu's famous Country fried chicken and Shinshu's salmon.
The cafe corner is a cosy spot where you can enjoy authentic cakes, baked sweets and delicious ice cream.
Our Recommendation
Country fried chicken served on a bowl of rice
Sauce Pork cutlet served on a bowl of rice
Shinshu salmon with grated yam served on a bowl of rice
Various cakes, craft beers, a good choice of ice cream flavors etc...
Business Hours
9:00〜15:30
Restaurant 11:00〜14:00
Cafe 9:00〜15:00
Seats
320 seats available
Cafeteria Yeti

(Usagidaira Terrace 2F)
A variety of original dishes Gourmet Restaurant Yeti is close to Gondola Lift Adam exit. Try our fluffy egg chicken rice omelet and the local speciality:- Sanzoku-yaki (Shinshu-style fried chicken) set. With a variety of many other dishes we welcome you to Usagidiara Terrace.
Our Recommendation
Rich flavored miso ramen

:

¥980
Chashuu roasted pork ramen

:

¥1,250
Bandit ramen

:

¥1,250
Business Hours
8:30〜16:00 (Last Order 14:00)
Seats
280 seats available
Ramen ChaCha

(Usagidaira Terrace 2F)
Magnificent & delicious, please enjoy a hot bowl of ramen at mid-station level. Hot broth with miso flavored ramen using soup of pork white water, etc. Shinshu-like menu such as Sanji-yaki ramen!
Our Recommendation
Rich flavored miso ramen

:

¥980
Chashuu roasted pork ramen

:

¥1,250
Bandit ramen

:

¥1,250
Business Hours
11:00〜14:00 (Last Order 14:00)
Seats
280 seats available
Trattoria Primo Pizza & Pasta

(Usagidaira Terrace 1F)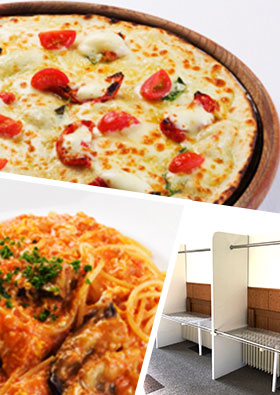 At 1,400m this Italian restaurant specializes in pizza and pasta served with delicious side dishes and beverages.
Our Recommendation
<Pasta>
Carbonara, Partitobé, Pescatora
<Pizza>
Margherita, Espert, Salmoni


*All pizzas are 30cm in diameter
Business Hours
9:00〜16:00 (Last Order 15:00)
HAPPO USAGIDAIRA CAFE

(Usagidaira Terrace 1F)
Located at mid-station just by the exit of the Gondola.
Before you start your ski session on the slopes, stop by for a freshly grounded cup of cafe latte or mocha. A vriety of breads and sweets biscuits are prepared if you skipped breakfast or are in need of a delicious snack.
Our Recommendation
Café latte

:

¥460
Café mocha

:

¥540
Drip coffee

:

¥390
Business Hours
9:00〜16:30
Sun Terrace Panorama

(Panorama slope 2F)
We have a comprehensive original local menu with fresh vegetables.
A truly authentic Japanese Restaurant, the only spot on the mountain where you can eat fresh sashimi, Hakuba's local shinshuu pork, seafood bowl mix, vegetarian dishes at 1,200m with fine panoramic slope side views of Happo-one. We specialize in locally produced vegetable dishes. The new soba buckwheat noodles are on the menu this year! They are made from authentic curry flavored soup stock and are delicious.
Our Recommendation
Panorama pork curry

:

¥900
Wagyu Black Beef Tendon Curry

:

¥850
Japanese-style Curry Soba Noodles

:

¥850
Mixed Vegetable Tempura with Soba Noodles

:

¥850
Shinshu apple-miso sauce served with stir-fried pork and steamed rice

:

¥1,050
Chef's daily special

:

¥970 〜
Business Hours
9:00〜15:00
Food Menu start from 10:00
Seats
2F: 155 seats available
Ramen-ya Samurai

(Cafeteria Kurobishi)
Managed by Nagano's Famous Ramen Chain "Ryoga"!
Ramen Samurai is a brand new ramen shop opening this season.
Guests can take our Tonosama Ramen Challenge! If you can finish the limited-edition mega bowl the ramen is free! You can have your choice in broth from soy, miso or tonkotsu!
Our Recommendation
Samurai White

:

¥1,100
Shogun Black

:

¥1,200
Niboshi Soy Sauce Ramen

:

¥1,000
Business Hours
9:00〜15:00(Food 10:00〜/L.O.14:30)
Seats
150 seats available
Café & Restaurant Pilar

(Alpen quad lift exit)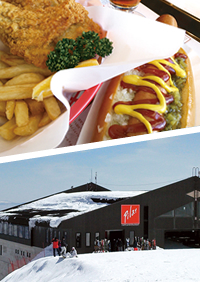 Full table service Italian restaurant
Our three and four course menu, abundant with locally produced fresh ingredients are the Chef's recommendation. We also offer café space within the restaurant & an extensive alcoholic and non-alcoholic menu. Enjoy Japrès ski with fine views.
Our Recommendation
Pasta Lunch
Main course Lunch Hakuba
Main Course Lunch Pilar
Business Hours
Cafe: 9:00〜16:00
Restaurant: 11:00〜 (Closed on Tuesdays)
Seats
14 seats Café
32 seats Restaurant available
Corona Escape Terrace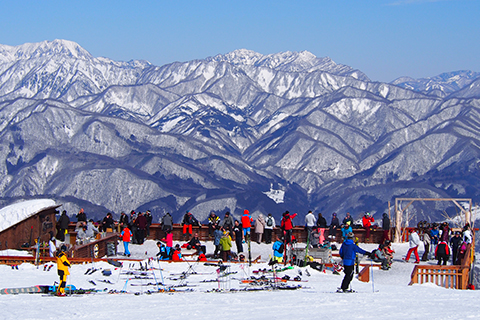 Our Recommendation
Corona Extra Bottle
Corona Bucket (5 Bottles)
Giant Marshmallow
Tornado Sausage
Business Hours
11:00~15:00 (Last Order 15:00)
*Depending on weather conditions, we may close or change business hours without notice
HAKUBA WHITE HORSE Bar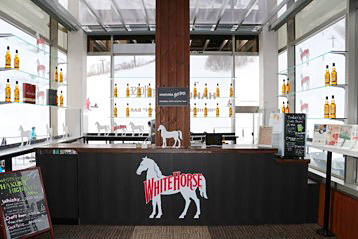 Our Recommendation
WHITE HORSE Hakuba Highball
Craft Beers
Cocktails
Business Hours
11:00~15:00 (Last Order 15:00)
HAKUBA MOUNTAIN BEACH
Have you ever experienced a sauna on the rooftop if a ski resort! For the first time this winter, we welcome you to Hakuba Mountain Beach. Inside the Gondola we have a dry sauna. Enjoy the spectacular views of Hakuba, before cooling off in a refreshing cold jacuzzi. The "Gondola Sauna" is the perfect way to reinvigorate your mind and body!
Our Recommendation
Pork & Shinshu Beef Smoked Cheeseburger
Pulled Pork Burger
Shinshu Ginjo Smoked Bacon
Hot Moca Chocolate
Business Hours
December 19 〜 May 5
11:00 〜 15:00
Bar: 11:00~15:00 (L.O 15:00)
Sauna: 11:00~15:00 (Reservation required)
*Sauna reservations: Telephone Hakuba Tourism Development Co.,Ltd. Happo Sales Division direct on #0261-72-3280
*Weather dependent – business hours may be amended.