Restaurant & Shop
Happo-one On Mountain Dining Guide
You can enjoy locally produced food in any of our restaurants.
*Please note that menu contents, prices, opening hours, etc. are subject to change.
Toilet
Vending machine
Shop
Coin locker
Information
Smoking area
Kid's room
Day nursery
Nursing room
Free Wi-Fi
Snow Plaza Sakka

(Sakka slope)
Restaurants with juicy steaks and hamburgers baked in front of customers. You can also enjoy the ohyokkuri hot pot which can only be tasted here. As well as homemade apple pie every morning.
Our Recommendation
Sakka hamburger

:

¥1,650
Sukiyaki rice bowl

:

¥1,600
Roasted eggplant & tomato sauce pasta

:

¥1,200
Bandit grill curry

:

¥1,500
Business Hours
8:30〜16:45
Drink 8:30〜16:00 / Food 10:30〜15:30
Morning Coffee & Morning Beer 9:00〜11:00
Seats
320 seats available
Cafeteria Yeti

(Usagidaira Terrace 2F)
A variety of original dishes Gourmet Restaurant Yeti is close to Gondola Lift Adam exit. Try our fluffy egg chicken rice omelet and the local speciality:- Sanzoku-yaki (Shinshu-style fried chicken) set. With a variety of many other dishes we welcome you to Usagidiara Terrace.
Our Recommendation
Rich flavored miso ramen

:

¥980
Chashuu roasted pork ramen

:

¥1,250
Bandit ramen

:

¥1,250
Business Hours
8:30〜16:00 (Last Order 14:00)
Seats
550 seats available
Ramen ChaCha

(Usagidaira Terrace 2F)
Magnificent & delicious, please enjoy a hot bowl of ramen at mid-station level. Hot broth with miso flavored ramen using soup of pork white water, etc. Shinshu-like menu such as Sanji-yaki ramen!
Our Recommendation
Rich flavored miso ramen

:

¥980
Chashuu roasted pork ramen

:

¥1,250
Bandit ramen

:

¥1,250
Business Hours
11:00〜14:00 (Last Order 14:00)
Seats
550 seats available
Trattoria Primo Pizza & Pasta

(Usagidaira Terrace 1F)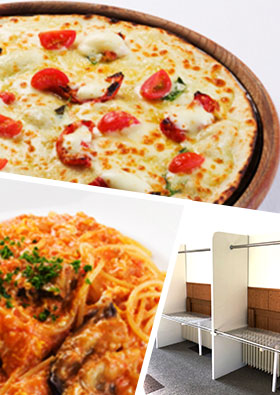 At 1,400m this Italian restaurant specializes in pizza and pasta served with delicious side dishes and beverages.
Our Recommendation
<Pasta>
Carbonara, Partitobé, Pescatora
<Pizza>
Margherita, Espert, Salmoni


*All pizzas are 30cm in diameter
Business Hours
9:00〜16:00 (Last Order 15:00)
HAPPO USAGIDAIRA CAFE

(Usagidaira Terrace 1F)
Located at mid-station just by the exit of the Gondola.
Before you start your ski session on the slopes, stop by for a freshly grounded cup of cafe latte or mocha. A vriety of breads and sweets biscuits are prepared if you skipped breakfast or are in need of a delicious snack.
Our Recommendation
Café latte

:

¥460
Café mocha

:

¥540
Drip coffee

:

¥390
Business Hours
9:00〜16:00
Sun Terrace Panorama

(Panorama slope 2F)
We have a comprehensive original local menu with fresh vegetables.
A truly authentic Japanese Restaurant, the only spot on the mountain where you can eat fresh sashimi, Hakuba's local shinshuu pork, seafood bowl mix, vegetarian dishes at 1,200m with fine panoramic slope side views of Happo-one. We specialize in locally produced vegetable dishes. Our flag ship dish is "Ohyokkuri (rice dumplings and fresh vegetables in miso soup)".
Our Recommendation
Panorama pork curry

:

¥980
Shinshuu pork

:

¥1,350
Shinshuu salmon

:

¥1,100
Chef's daily special

:

¥1,000 ~
Business Hours
10:00〜15:00
Seats
1F: Members Lounge for Happo-one Season Pass Holders (9:00 - 15:00), 25seats
2F: 275 seats available
Cafeteria Kurobishi

(Kurobishi slope)
Enjoy relaxing stone-oven baked pizza, curry and pasta with stunning mountain views. The location of Kurobishi is at 1,680m. From here access the best powder slopes at Happo-one including Kurobishi, Skyline, Omusubi (off piste )& Urakuro (off-piste) runs.
Our Recommendation
Hamburger curry

:

¥1,500
Black beans curry

:

¥1,500
Pizzas Margherita: ¥1,600
Business Hours
9:00〜15:00(Food 10:00〜 / L.O.14:30)
Seats
150 seats available
Café & Restaurant Pilar

(Alpen quad lift exit)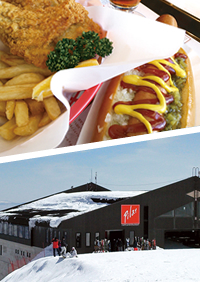 Full table service Italian restaurant
Our three and four course menu, abundant with locally produced fresh ingredients are the Chef's recommendation. We also offer café space within the restaurant & an extensive alcoholic and non-alcoholic menu. Enjoy Japrès ski with fine views.
Our Recommendation
Pasta Lunch

:

¥3,100
Main course Lunch Hakuba

:

¥3,600
Main Course Lunch Pilar

:

¥4,100
Business Hours
Cafe: 9:00〜16:00
Restaurant: 11:00〜 (Closed on Tuesdays)
Seats
20 seats Café
30 seats Restaurant available
Kitaone Kogen Café

(Sakka quad lift exit)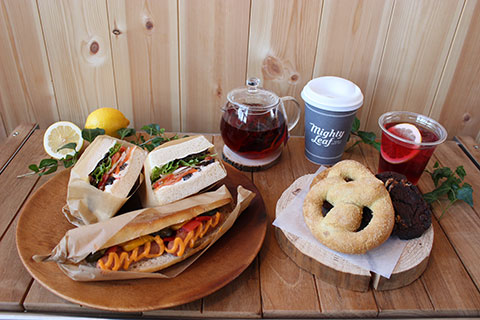 Healthy food & a delightful sandwich choice including salmon & cream cheese or Hakuba roasted pork sausage. A variety of sweets, coffee, hot chocolate and relaxing herb teas on offer.
Our Recommendation
Sandwich

:

¥600
Soups (Minestrone, Soya milk, soup of the day)

:

¥500
Rich roasted flavored coffee

:

¥400
Original herb teas

:

¥500
Business Hours
9:00〜16:00 (L.O. 15:30)
Seats
100 seats available
Kitaone Kogen Restaurant

(Sakka Kitaone quad lift exit)
Renewed last year, this fine dining venue offers a three-course lunch menu created by an experienced Italian cuisine specialist Chef. Fresh local ingredients are used for all dishes & are matched exquisitely with the region's wines from Nagano & Niigata Prefectures.
Our Recommendation
Course lunch

:

¥4,400
Pasta (4 choices)
Meat & vegetable main course
Dessert & coffee
Business Hours
11:00〜14:00
Seats
12 seats available (Reservations recommended)
Ramen Zunpachi

(Shirakaba slope)
Matsumoto City's popular ramen chain has established a ramen house at the base of Shirakaba slope. Enjoy the soul food of Japan & warm up with a hot bowl of noodles with a hearty broth.
Our Recommendation
Pork bone soy sauce

:

¥950
Shinshuu miso

:

¥1,000
Fried karage chicken set

:

¥1,000
Fried chicken curry

:

¥1,300
Business Hours
10:00〜15:00 (Last Order 15:00)