What's New
2022.11.25
Cancellation of OGASAKA SKI & BLASTRACK Test ride in 2022@Happo-one
Sunday 25 December
This event is cancelled due to strong winds.
We apologize for the inconvenience and thank you for your understanding.
---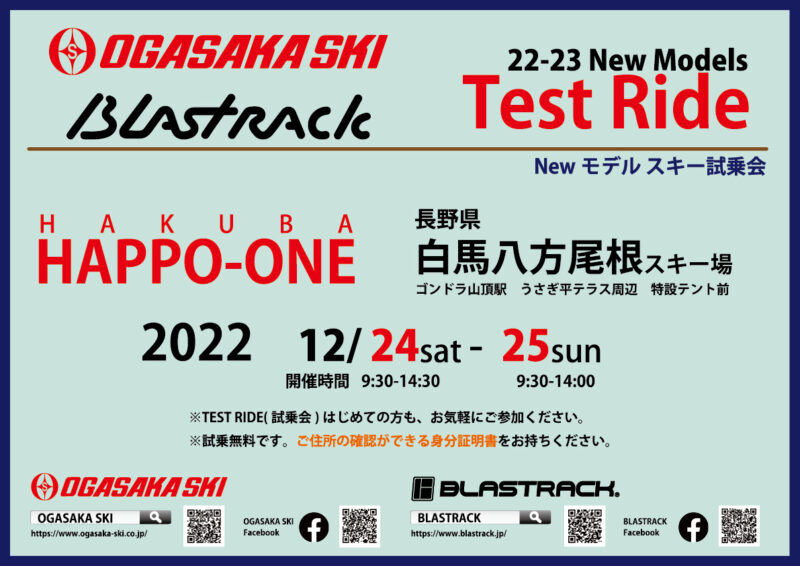 22-23 NEW MODEL BLASTRACK&OGASAKA SKI TEST RIDE!
It's a chance to test ride the 2022-2023 models of BLASTRACK&OGASAKA SKI!
Come and try skiing with FREE SKI has a great ride quality at Hakuba Happo-one ! We look forward to seeing you there!
Click HERE for the BLASTRACK Website
Click HERE for the OGASAKA SKI Website(English)
▽Date and time
Saturday 24th ~ Sunday 25 December 2022
24th 9:30a.m. – 2:30p.m.
25th 9:30 – 2:00o.m.
▽ Location
Hakuba Happo-one Ski Resort
In front of a special tent at the Gondola summit station of the Usagidaira terrace
※Please feel free to come for the first time.
※There is no participation fee. Please bring an ID card with your address.
※Free event
※TEST RIDE may be cancelled due to various reasons. Please understand beforehand.