Kids Park
Due to COVID-19 there may be sudden changes to our operations and business hours.
We apologize for any inconvenience and thank you for your understanding.
Please check the latest information
Nakiyama Snowland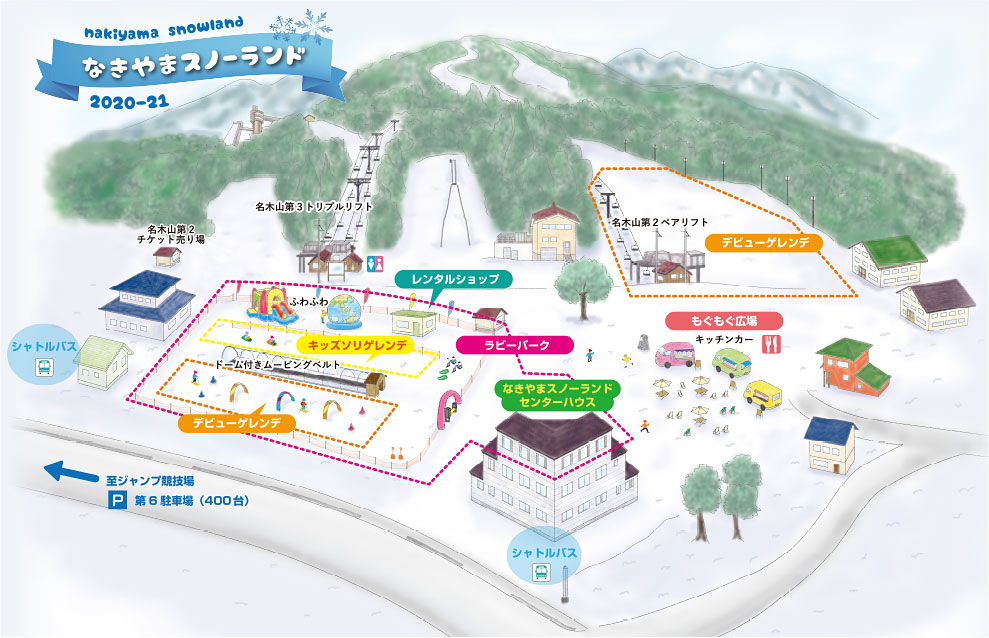 A new family slope opened in this season!
Adults and children can enjoy their first time on the snow at Nakiyama Snowland.
Rabby Park
There is an 80m moving belt!
The kids' sledding area and the debut area are separated by a moving belt, so children can enjoy sledding safely. For beginners, one-point advice lesson is offered by Happo-one Instructors.
Debut slope
※Rabby park + Nakiyama #2 lift
Once you become used to it, try riding the lifts at Nakiyama slope

to gradually improve your ability.

Snowland
Have fun with your first snow experience by using a variety of

playground equipment!

Mogumogu Hiroba
There a few food trucks or kitchen cars set up in the open space.

You can choose from many different kinds of food and drinks.

Take breaks from time to time and keep warm!
Public space (1F)
The facility includes general information, lift ticket office, Hakuba Happo-one Ski & Snowboard School reception, kids park reception, nursery & changing room and lockers
Business Hours: 8:00~17:00

Rabby Park entrance ticket or Nakiyama debut ticket exclusive room (3F)
Kids space & family rest area
Business Hours: 9:00~16:00
Fee and Business operation hours
Entrance fee

Rabby Park
Kids 1,000yen / Adults 1,000yen
Local village discount Kids 500 yen / Adults 200 yen

Nakiyama Debut ticket
※Rabby Park entrance fee + Debut slope (Nakiyama #2 lift)
Half day ticket: Adult 2,000yen / Kids 1,000
1 day ticket: Adult 3,500 / Kids 1,500
Period of use

Saturday 19th December ~ Sunday 14th March
※ Due to melting snow at the base area of Nakiyama, we had to close earlier than planned.

Rabby Park: 9:00〜16:00
Food trucks: 10:00〜15:00
Center house: 8:00〜17:00 (Kids space: 9:00~16:00)
For the local village discount, please bring proof of Hakuba Village resident status (driver's license, health insurance card, etc.) and show the ticket staff. If you do not have a certificate, the regular fee will be charged.
Adventure Park Sakka
Enjoy the slopes and also try a variety of winter activities!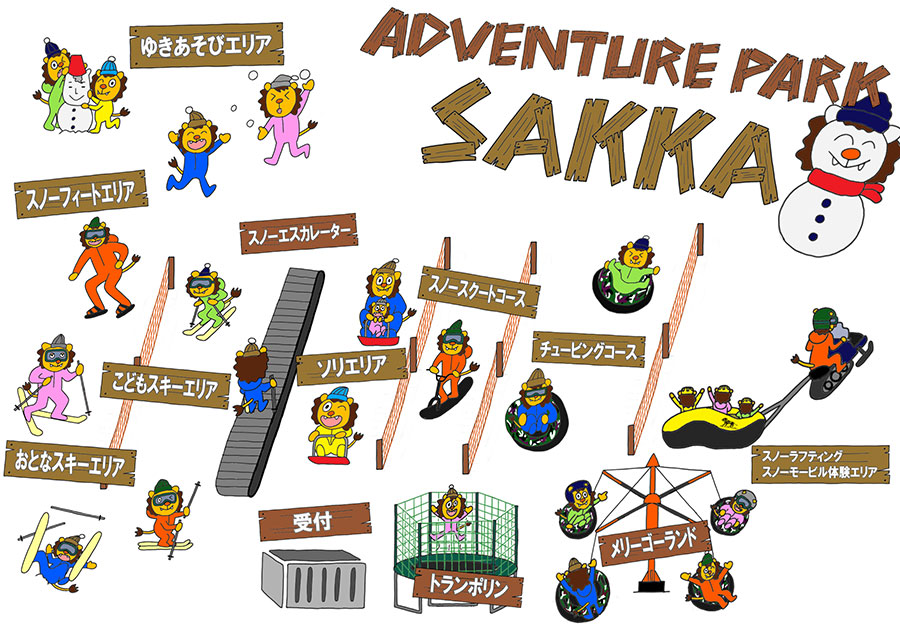 Enjoy a variety of activities on the kids slopes, the area is secure and separated by safety nets. Kids and families have unlimited use of playground equipment!
Snow mobile
Single (Over 6 years kids), Tandem (Kids from 3 years & adults) Snow mobile available for both kids and adults.
1,000yen per time
Snow merry-go-round
Kids over 3 years old can enjoy this experience. 500yen per session
Snow rafting
Kids over 3 years old can enjoy this experience. 1,000yen per session
Fee & Period of use
Entrance fee
500yen
Period of use
Friday 25th December - Sunday 14th March
※ Due to melting snow at the base area of Sakka, we had to close earlier than planned.
Kids under 12 must be accompanied by a parent or guardian. (over 18 years)
Adults and kids are the same price. Kids under 2 are for free.
Usagidaira Kids Park
At an elevation of 1,400 meters
Usagidaira Kids Park is open in the off-peak season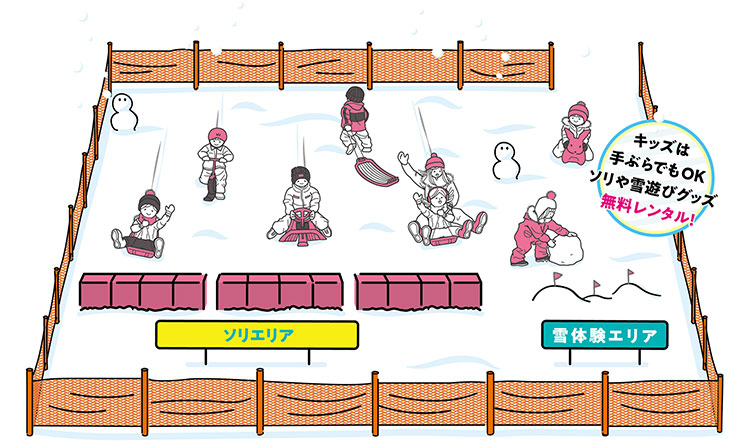 We open the mid-resort Kids Park at Usagidaira during the off-peak season, when the first snow falls until late December.
Then again at the beginning of spring, from the end of March until the end of the season. ※Depends on snow conditions.
Fantastic spot to visit if it is your first time to see snow. Many families & kids play here. Exceptional views of Hakuba's famous mountain peaks & there are 5 different restaurants located at this mid-mountain venue.
Sled/Toboggan Area
You can choose from a variety of sleds and toboggans (all you can ride for free).
Snow Play Area
There are different play items for little kids to have fun. You can even build a snowman, snow castle and ice-cream balls made from snow.
Park Admission・Period of use
Entry
Free
Period of use
From early December - late December (schedule)
From Saturday 20th March - end of the season (open Sat, Sun and Public Holidays only)
10:00 - 15:00


※The period of use may be amended due to adverse weather conditions, including snow depth.
The image used on our website may differ from the actual Kids Park on site.
Park items and Park area may differ according to the snow depth.
The park is located at Usagidaira, access via Adam Gondola (exit from the top station).