Kids Park
Nakiyama Snowland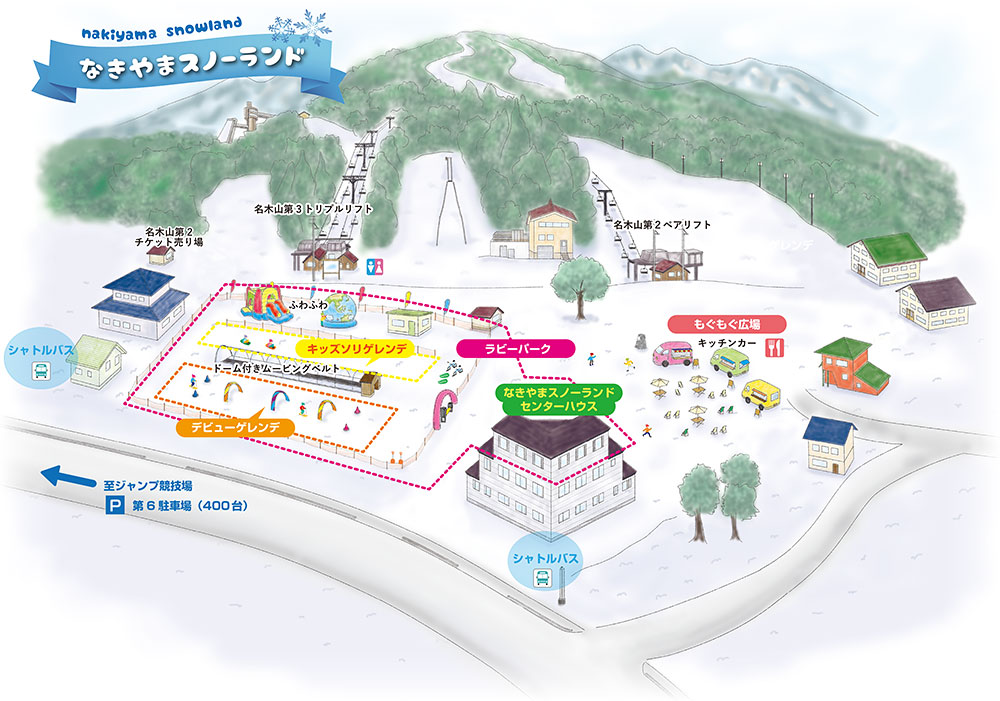 Both families and beginners can enjoy "Nakiyama Snowland".
It's a great place to make your debut on the slopes!
Everyone can make their first steps on the snow at Nakiyama Snowland!
Rabby Park
There is an 80m moving belt!
The kids' sledding area and the debut area are separated by a moving belt, so children can enjoy sledding safely. For beginners, one-point advice lesson is offered by Happo-one Instructors.
Snowland
Have fun with your first snow experience by using a variety of

playground equipment!

Mogumogu Hiroba
There a few food trucks or kitchen cars set up in the open space.

You can choose from many different kinds of food and drinks.

Take breaks from time to time and keep warm!
Public space (1F)
The facility includes general information, Pickup Vending Machine, Hakuba Happo-one Ski & Snowboard School reception, kids park reception, nursery & changing room and lockers
Business Hours: 8:00~16:30

Rabby Park entrance ticket exclusive room (3F)
Kids space & family rest area
Business Hours: 9:00~16:00
Fee and Business operation hours
Entrance fee

Rabby Park
Children (3 years old to elementary school students) 1,200yen / Adults 1,200yen
Hakuba village locals: 600yen (Adult・Kids)

Period of use

Saturday 17th December, 2022 ~ Sunday 26th March, 2023
Rabby Park: 9:00〜16:00
Kitchen car: 10:00〜14:00
Center House: 8:00〜16:30 (Kids' space: 9:00〜16:00)
For the local village discount, please bring proof of Hakuba Village resident status (driver's license, health insurance card, etc.) and show the ticket staff. If you do not have a certificate, the regular fee will be charged.