Hakuba Happo Area Rules
Information Regarding Happo Area Map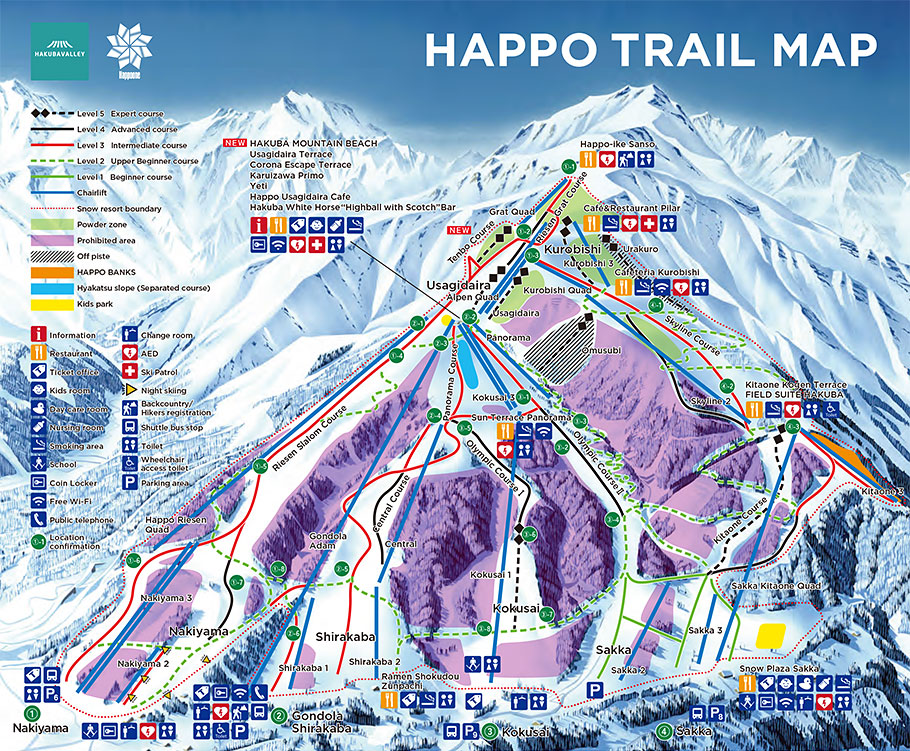 Ski Resort Prohibited Zones.

As mentioned on the ski course map do not enter prohibited zones and restricted boundaries at Happo-one. Concerning the prohibited zones, if you are uncertain of the area, DO NOT ENTER the area. Please ask THe Ski Patrol Staff or Authorized Personnel BEFORE entering the unknown zone. Contrary to this if you do enter the unknown zone this will result in cancellation of your lift ticket and/or pass. In addition you will lose all skiing/rider privileges.

Special Designated Area "URAKURO", "OMUSUBI"

This special designated area is limited to ADVANCED SKIERS ONLY. You may ski/ride in this area only when the upper gate is open, and AT YOUR OWN RISK.
More information about the NEW omusubi area can be found here.

Ski Resort Management Duties and Obligations.

If an accident or incident happens outside of the ski zone area Management shall not bear any responsibility. In addition, any search or rescue operation initiated on your behalf will result in cancellation of your lift ticket and/or pass. You will incur the total cost of the damages and rescue or search investigation initially absorbed by Happo-one Ski Resort.

Guests and Visitors Duties and Obligations.

For your safety and enjoyment on the slopes we kindly request all participants to observe and follow any instructions from Management as well as The Ski Patrol Staff. Observation and abiding by the Local Area Rules will ensure a fun and exciting time for everyone participating in Winter Sports on the slopes at Happo-one.

Mountain Climbing and Ski Mountaineering.

Please follow the relevant procedures before you engage in mountain climbing and ski mountaineering activities at Hakuba Happo-one. Permission to engage in such activities requires your planned schedule tobe formally submitted along with the relevant form. This form is available at either Gondola Adam Base Lift or Happoike Sanso located at the top of the Grat Quad Lift. The form can be filled in and submitted on the day of intended departure.
Climber Registration Form download here PDF
For backcountry users enjoyment and safety please read details by clicking on this link.
Chinese version can be viewed via this link
Irrespective of any reason at the time, If you breach the rules, or the procedures are not strictly adhered to your application will be dismissed and your lift privileges will be cancelled. Please be understanding of the rules and regulations at Hakuba Happo-one.
Hakuba Rules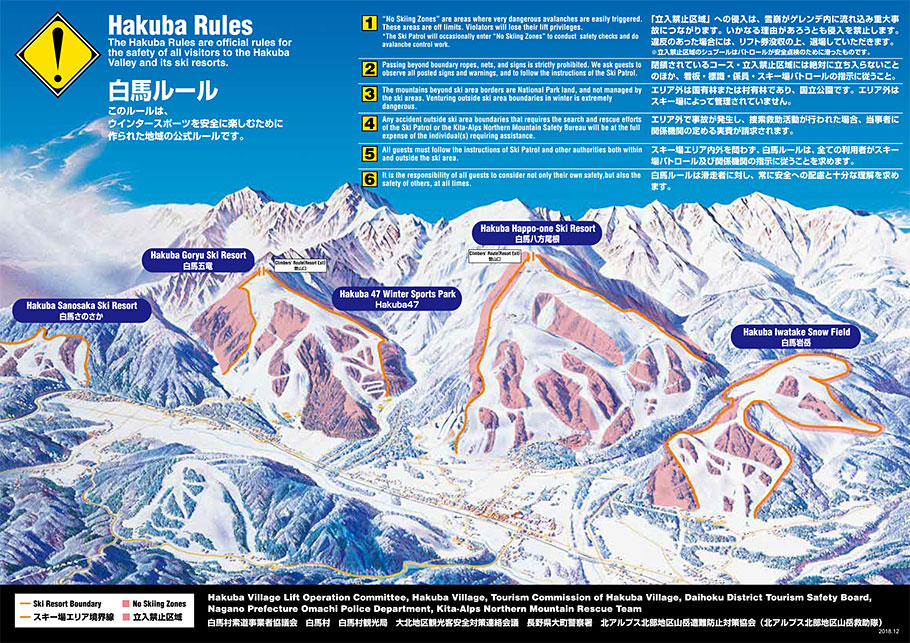 The Hakuba Rules are official rules for the safety of all visitors to the Hakuba Valley and its ski resorts.
"No Skiing Zones" are areas where very dangerous avalanches are easily triggered. These areas are off limits. Violators will lose their lift privileges.
Passing beyond boundary ropes, nets, and signs is strictly prohibited. We ask quests to observe all posted signs and warnings, and to follow the instructions of the Ski Patrol.
The mountains beyond ski area borders are National Park land, and not managed by the ski areas.Venturing outside ski area boundaries in winter is extremely dangerous.
Any accident outside ski area boundaries that requires the search and rescue efforts of the Ski Patrol or the Kita-Alps Northern Mountain Safety Bureau will be at the full expense of the individual(s) requiring assistance.
All guests must follow the instructions of Ski Patrol and other authorities both within and outside the ski area.
It is the responsibility of all guests to consider not only their own safety, but also the safety of others, at all times.
WARNING TO THE SKIERS & BOARDERS
Skiing (and snowboarding) contains inherent risks as outlined below. You must understand these risks and avoid them at your own responsibility.
Risks caused by weather conditions including snow, wind, and fog;
Risks due to terrain conditions such as drop-offs and contours;
Risks due to conditions including frozen ice and snowslides;
Risks due to natural objects such as rocks and trees;
Risks due to manmade objects including lift facilities, buildings, and snow vehicles;
Risks caused by contact with other skiers;
Risks due to your own errors.
Do not ski off the cat track and do not ski outside the designated ski course and trails as this may trigger a landslide or avalanche within the ski resort.
Use of drones is prohibited to land/take off and fly at Hakuba, Happo-one.
For media visits the operator must obtain consent from Happo-one Ski Resort Management prior to arrival in Hakuba for consideration.
* The cat tracks can become narrow, take caution with your speed control and do not jump out suddenly from the track onto the course.
Ski Resort area rules within the boundary;
Hiking on the ski course can cause an unforeseen accident with skiers and riders in the resort.
Purchase a lift ticket and ride the lift safely.
Groomers and snow making machines are in business operations after the ski resort has closed to the general public.
It is extremely dangerous to enter the ski resort after business hours. Keep off the ski resort at night.