Happo Shuttle Bus
2021-2022 Winter Season home page is being updated. We'll be ready very soon!
Happo-one provides a free ski & village shuttle bus service to help you move easily from your accommodation, the information center and train station to the slopes.
Shuttle Bus operation period:
Happo-one Ski Resort has extended business operations for an additional 4 days!
Business extension period: Thursday 6th May - Sunday 9th May 2021
A free shuttle bus will continue to transport guests to the Gondola.
Kokusai bus stop has been removed from the current timetable. Please confirm below.
This season the regular shuttle bus operation ended on Sunday 28th March.
For the spring season, a shuttle will run every weekend from Saturday 3rd April until Golden Week 5th May (including the GW holidays).
Hakuba Valley Shuttle Bus operation ended on Sunday 14th March.
The shuttle bus is provided for guests using Happo-one ski resort
Due to road and traffic conditions, the bus timetable may change without prior notice.
The daily bus schedule may experience some delays in the case of heavy snow.
Happo Shuttle Bus Service - Spring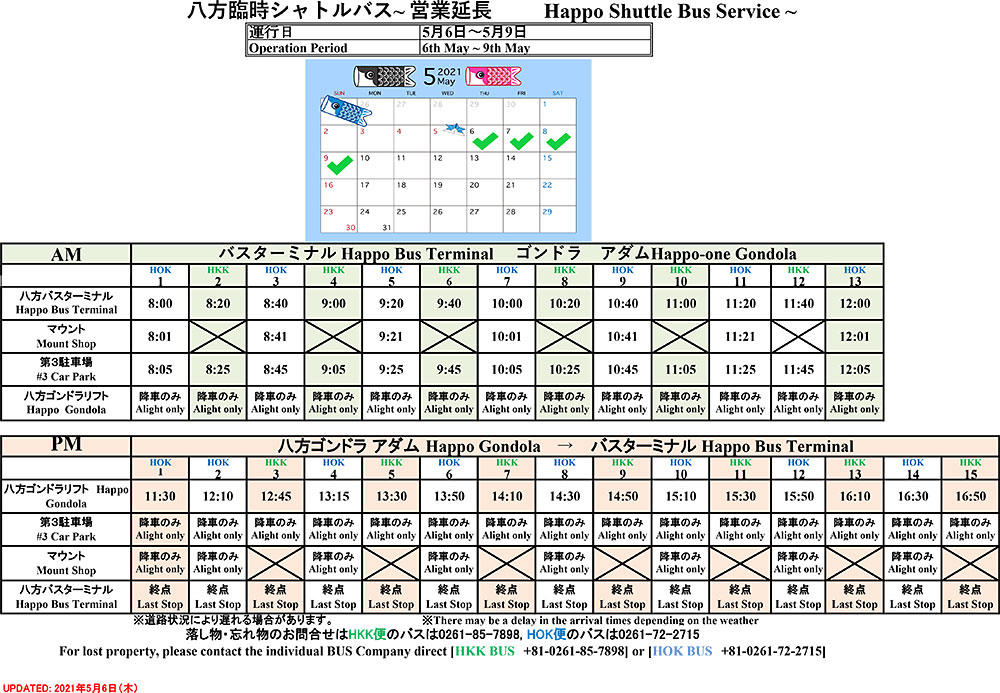 As part of the Ski Resort and Village safety operation measures to further prevent the spread of COVID-19 we ask guests to always cover your face by wearing a ski face mask, face cover or mask whilst in the shuttle bus. Please sanitize your hands (sanitizer is provided inside the bus). Please refrain from talking in the shuttle bus.