Kurobishi Line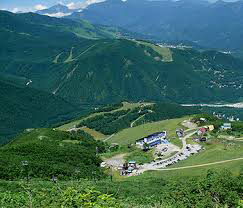 Kurobishi Line includes Kurobishi #3 pair lift and the Grat quad lift. Since the construction of a mountain lodge in the early Showa period, Kurobishi has been loved by skiers and mountaineers as a base for mountaineering and mountain skiing.
Kurobishi Forest Road, which leads from the foot of the mountain through the Wadano Forest to the end of the forest road at an altitude of 1,500 meters and Cafeteria Kurobishi (formerly Kurobishi Hut), offers a series of spectacular views. The distance from the base of Happo to the end of the road is about 9km, with an elevation difference of 760m. The road is steep, with sharp curves and narrow at certain points, so please drive carefully. From the Umatame Bridge onward, the road finally takes on the appearance of a mountainous area, and the mountains of Hokushin appear one after another from the windows of the north ridge, which gradually rises in altitude, and as the difference from the foothills widens, you will realize that you have come to a high place. After admiring the three Hakuba Peaks which appear intermittently as you drive along the winding forest road, you will arrive at Kurobishi parking lot in front of Cafeteria Kurobishi, the last stop on the forest road (parking capacity is approximately 200 cars).
From the Kurobishi parking lot, the Kurobishi #3 pair lift will take you to Kurobishi-daira and Kamaike Marsh in about 7 minutes. The Grat quad lift will take you to Happo-ike Hut, and if you are ready for a hike it will take you about an hour to ascend the trail to where the heavenly pond "Happo-ike" awaits.
Operation Period
Sat 1 July ~ Sun 15 October 2023
Times are subject to change depending on weather conditions.
Pets are not permitted on the lifts neither on the resort.
Opening hours vary depending on the day. Please check the calendar below for details.
Lift Operation Times
You can use the uphill line 30 minutes prior to connect with the final lift at Grat quad.
Lift Ticket Prices
Kurobishi Line one-way and return
| | Return | One Way |
| --- | --- | --- |
| Adult | 1,900 yen | 1,000 yen |
| Child | 1,140 yen | 600 yen |
| Group Adult | 1,710 yen | 900 yen |
| Group Child | 1,030 yen | 540 yen |
| Disabled Adult | 1,520 yen | 800 yen |
| Disabled Child | 920 yen | 480 yen |
Adult: 13 years and over (junior high school student or older) Child: 12 years elementary school student Infant: 0 years ~ 4 years old (up to preschooler)
If the number of children accompanying one adult exceeds one, a "Child" ticket is required for the second child.
Round-trip tickets are valid for three days from the date of issue; one-way tickets are valid only for the day of issue.
Group fares (15 or more passengers) and discounts for physically challenged passengers (disabled) are also available.
Lift Information
Kurobishi #3 Pair Lift

A 2-seater chairlift operates every 12 seconds.
Operation section

Route Kurobishi parking lot - Kurobishi-daira

Maximum capacity

660 passengers per hour

Capacity

2 passengers (ride time: about 7 minutes)

Total length

415m

Height difference

180m

Operation speed

1m/s
Grat Quad Lift

A 4-seater chairlift operates every 12 seconds.
Operation section

Kurobishidaira – Happo-ike Hut (1st Cairn)

Maximum capacity

1,200 passengers per hour (maximum 2,400 passengers per hour)

Capacity

4 passengers (ride time: about 5 minutes)

Total length

598m

Height difference

160.90m

Operation speed

2m/s (maximum 4m/s)