What's New
2021.04.11
Half-price lift ticket campaign for Nagano Residents
The following is NEW INFORMATION translated from the official website of Asoview.
Due to the heavy burden on the medical staff and hospitals in Nagano Prefecture, a "Health Care Alert" was issued for the entire prefecture on Thursday 8 April  and a "New Coronavirus Alert" was issued raising the emergency and crisis situation to LEVEL 3.
In light of these measures, the asoview half price campaign will be temporarily suspended from midnight Thursday 15 April.
However, tickets that have already been purchased via the asoview official website can be used after Thursday 15 April.
Nagano Residents Support
Ski Lift Ticket Half-Price Campaign started on Friday 19 February 2021! Please take this opportunity to come to Hakuba Happo-one Ski Resort. 「Asoview Campaign」 official Home Page is HERE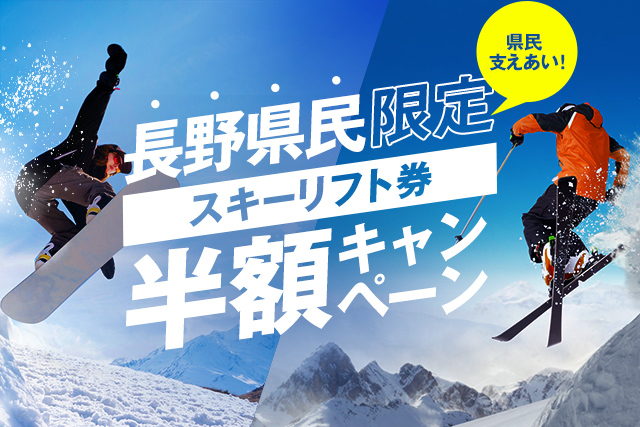 From Saturday 20 March, the spring ski lift ticket pricing will apply, so you can save even more money!
※For those who live in neighboring prefectures, this service is no longer available due to the reasons explained below
For more details, please click here
Enjoy your time safely and secure your ski holiday now for a great price.
Buy it now ! click here
■The coverage period for residents of Nagano
Friday 19 February – Wednesday 5 May 2021
※The campaign will be temporarily suspended at midnight on Thursday 15 April
※Happo-one Ski Resort will be open until Golden Week Wednesday 5 May
---
Residents of Neighboring Prefectures
Since the announcement on Thursday 8 April, the number of positive cases of the new coronavirus infection (COVID) in Nagano Prefecture have been on the rise & the burden on medical institutions has been increasing, to prevent the spread of infection 「Asoview Campaign」 conditions have changed.
Residents of Nagano Prefecture will continue to be eligible.
We apologize for the inconvenience to those who have been looking forward to visiting Hakuba Happo-one & ask for your kind understanding.
■The coverage period for residents of neighboring prefectures was postphoned on Saturday 10 April. We apologize for the sudden changes and for any inconvenience this may have caused. We will make additional updates to this section intermittently according to the latest reports.