What's New
2021.05.09
Sun 9 May~ Ski Resort operation changes (latest updates)
Dear Guests,
Thank you for your continued patronage of Hakuba Happo-one Ski Resort.
We would like to ask for your understanding regarding the changes that have already taken effect since the new year and we are constantly updating our operations and monitoring our staff manner and behavior to help stop the spread of COVID.
We also ask for guests cooperation in assisting our  safety operation measures and respecting other guests when visiting Hakuba Happo-one. COVID SAFETY MEASURES INFORMATION
---
Sunday 9th May Grat quad lift will operate from 9:00 ~ 14:00. Please be careful as the lift will close early today.
---
Kurobishi #3 pair lift has closed for the season.
Hakuba Happo-one Ski Resort extends snow season operations for additional 4 days
Business extension period: Thursday 6th May to Sunday 9th May
Grat quad, Alpen quad, Gondola, Kurobishi #2 pair lifts plan to open until Sun 9th May. Please note that the extension period may change (close earlier) depending on the daily snow and weather conditions.
---
Due to melting snow conditions at Panorama course, Panorama pair lift has closed on 4th May for the season.
---
All base trails are CLOSED for the season. Sakka Kitaone quad lift closed for the season on 28th March.
Access to the upper part of the mountain is from the Gondola only until the end of the season.

---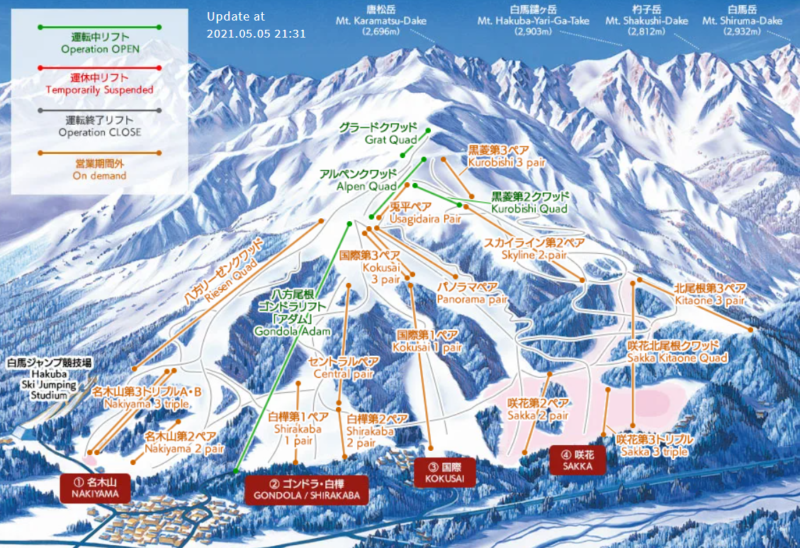 OPEN TRAILS    Click here for all open and closed trails
Riesen Grat Course
Usagidaira Slope
Kurobishi Slope

Race Training Area  CLOSED (alternative areas available)
Please contact Hakuba Happo-one Ski & Snowboard School ☎TEL: 0261-72-212
---
TICKET WINDOW (OPEN/CLOSE) LIFT TICKET PRICES
Coupons, agents vouchers and any other vouchers can be exchanged for a lift ticket only at the Gondola ticket window. Tickets purchased online via our official web shop can be picked up from the ticket windows below. Please check the closing date of each ticket window for the season.
・Gondola ticket window is open every day from 8:00 ~ 16:00 until the end of the extended season 6th May ~ 9th May
・Kokusai ticket vending machine closed on 2nd May
・Nakiyama ticket window closed on 4th April
・Nakiyama Snowland Center House ticket window closed on 4th April
・Sakka ticket vending machine closed on 28th March
---
KIDS PARK
Usagidaira Kids Park –  CLOSED
Nakiyama Snowland – CLOSED
Adventure Park Sakka – CLOSED
---
RESTAURANTS OPEN
Cafeteria Yeti (Usagidaira Terrace 2F) 
Karuizawa Primo Hakuba (Usagidaira Terrace 1F) Closed from 6th – 7th May, Open on 8th – 9th May
Cafe & Restaurant Pilar (Closed every Tuesday)
Ramen Samurai (Cafeteria Kurobishi)   ※every Friday, Saturday, Sunday and public holidays until Golden Week 5th May
Usa Cafe ※weekends and public holidays only (Closed on 17th, 18th, 24th and 25th April) 
---
SHUTTLE BUS OPERATIONS
This season, the regular shuttle bus operation ended on Sunday 28th March.
A weekend shuttle will run every weekend from Saturday 3rd April until Golden Week 5th May (includes the GW holidays)
※Due to the special operations extension period from 6th May – 9th May a temporary shuttle will operate as per the GW holidays timetable.
Click HERE
---
HAKUBA HAPPO ONSENS
Thank you very much for visiting Hakuba Happo Onsen.
We would like to inform you that we have had to make some changes in response COVID-19. Our operations & business hours will temporarily change.
The business hours of "Happo no Yu" & "Mimizuku no Yu" will be as follows. We apologize for any inconvenience this may cause & ask for your understanding and cooperation.
Facilities: Happo no Yu, Mimizuku no Yu
Period: Monday 25 January ~
Opening Hours: 12:00pm – 8:00pm
Also, "Sato no Yu" will close for the season the last day being Sunday 24 January.