What's New
2021.01.01
Go To Travel Campaign – Japan 2020
In July, The Japanese Government launched a tourism campaign to support local businesses since the decline of the economy and loss of trade due to the spread of coronavirus infections (COVID-19) since April 2020.
The emergency declaration was announced in April and The Government requested residents to stay home refraining from regular activities to prevent the further spread of COVID-19. The impact of COVID-19 during this time affected small and major businesses around the country.
The Go To Travel Campaign has been officially running since July 2020.
※There have recently been some significant updates to the campaign and the coupons validity period has been amended until further notice from the Government.
COVID-19 UPDATE!! Please read the following IMPORTANT INFORMATION.
To prevent the further spread of coronavirus infections (COVID-19) the Japanese Government have made a recent announcement.
It will not be possible to exchange (use) the common regional coupons in Japan.
Period: Monday 29 December 2020 –  Sunday 7 March 2021

We have been informed by the Go To Travel Office that "even if a traveler offers to use a common regional coupon, we are unable to accept it.
Thank you for your understanding and cooperation.
Target area: All of Japan
Unable to accept coupon period: December 29, 2020 (Tuesday) – March 7, 2021 (Sunday)
The following facilities will be able to accept the coupons after the restrictions are lifted.
---
At Happo-one the Go To Travel Campaign regional coupons have been available since Thursday 1st October 2020. The coupons can be exchanged at the following facilities listed below.
※Coupons can be downloaded to mobile phones (QR code coupon) however, there are some facilities which accept  paper coupons only. Please confirm directly with staff at each facility.
※Unable to receive cash back on the remaining amount if leftover.  Please inquire with staff about how to utilize the remaining amount if any. e.g. souvenir, sticker, other goods.
Sample of the Go To Travel coupon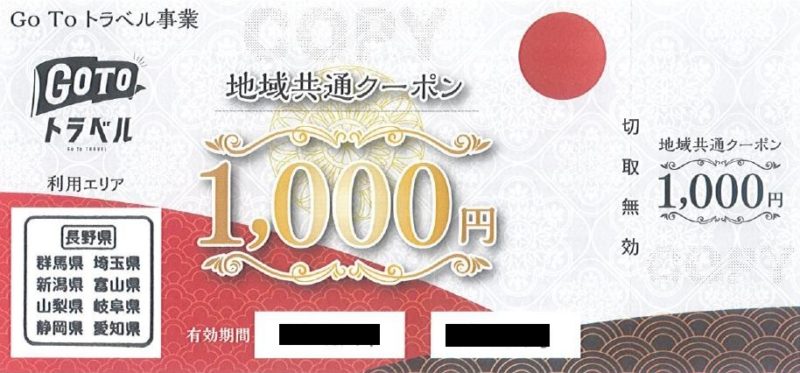 ---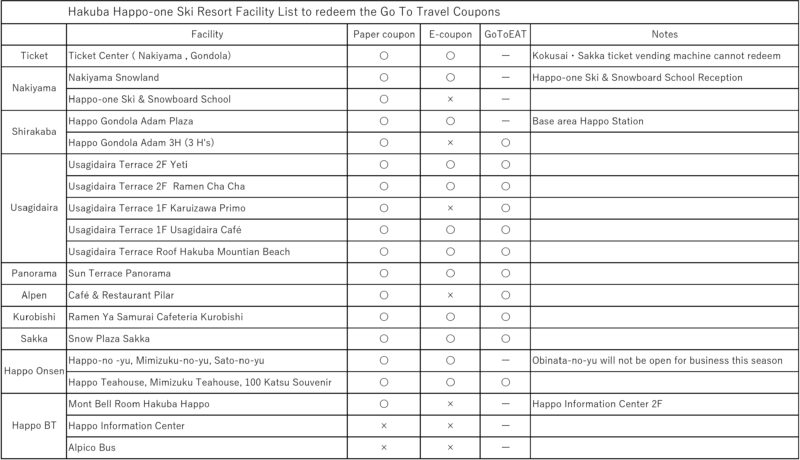 Download pdf here
Happo-one Tourism accommodation facilities currently registered for the Go To Travel campaign as of 7th October 2020.
Please click on the link below and contact each accommodation directly for further information and reservation inquiries.
ACCOMMODATION LIST Go To Travel
※Click here to search for other facilities which accept coupons in Nagano Prefecture, Hakuba Village via the Go To Travel website HERE