Events & Competitions
2021.05.04
Insta Photo Contest × POW Japan 2020-2021 WINNERS!!
Hakuba Happo-one X POW Japan Instagram Photo Contest was held from 25th January until 31st March 2021. We received more than 500 entries. Thank you very much!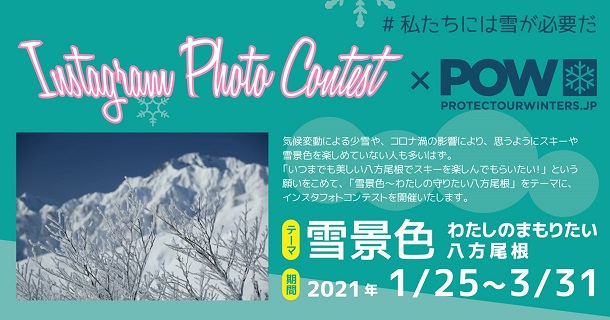 As a result of the screening, we will contact the winners via direct Instagram message.
Please note that if we do not receive a response from you by the due date (approximately one week), your entry will be deemed to have been declined. The photo contest was held under the theme of Snow landscape ~ winter landscapes at Happo-one. ~ endless.
Everyone's passion for snowy mountains and the unique panoramic landscape at Hakuba Happo-one was positively expressed in their messages and photos. We will introduce you to all of them soon. Hopefully,  we can enjoy snow sports in this beautiful snowy landscape forever!
The photo contest is a collaboration with POW Japan, which works under the principle of "protecting our beloved winter from climate change and connecting it to the future. If you would like to learn more about climate change or take action, please visit their official website at @protectourwintersjapan. For more information about the photo contest, please visit our official home page link in the profile @hakubahappoone