Events
2021.10.06
Happo Photo Rally – Hike & Photograph circuit competition!!
Happo Photo Rally – Hike & Photograph circuit competition ends 10th October 2021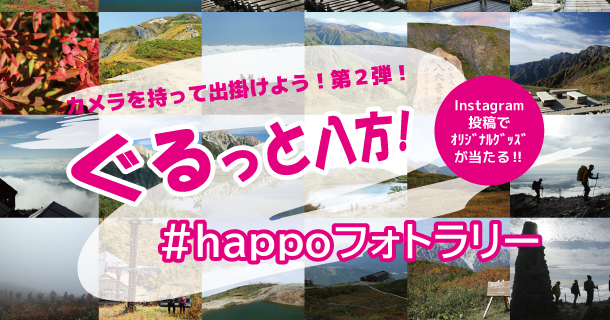 ▶It's easy to participate, just take a photo at the designated photo spots and present it to the staff at the base station of the Grat Quad Lift, the first 300 entries will receive an original Kurobishi Skyline sticker (not for sale).
▶▶For an even better chance to win Happo original goods follow our official Instagram @hakubahappoone  and post all your photos taken at the designated photo spots with the hashtag #happoフォトラリー or just copy and paste the hashtag for a chance to win original goods in the final draw to be held in mid-October. We hope you enjoy autumn and look forward to your visit at the famous spots around Happo-one!
---
How to register and participate
1. Visit the designated photo spots and take some great pictures.
2. Simply present the photo you took at the base station of the Grat Quad Lift (the lift at the top). The first 300 people to show up will receive a Kurobishi Skyline original sticker (not for sale)! *You can also pick up stickers at Happo Information Center.
3. Post on our official Instagram for a chance to win original Happo goods!
3-1. Follow the Hakuba Happo-one official account @hakubahappoone If your account is set to "Private", you will not be able to participate in this event. Check the settings of your account to join the event!
3-2. Post your photos on Instagram with the hashtag #happoフォトラリー or just copy and paste the hashtag.
3-3. Hakuba Happo-one Ski Resort x Millet limited edition neck buff and Happo Onsen complimentary tickets will be given away at the final draw.
---
Designated Photo Spots

How to access Kurobishi:  From Happo Information Center drive your car to Kurobishi, park your car in the free carpark and ride Kurobishi 3 pair lift. For more information you can view a map in English HERE
1. KUROBISHI UNKAI DECK:  Ride Kurobishi 3 pair lift and exit to the right and you will see benches, a wooden sign and the Kurobishi Unkai Deck.
2. KAMIKE MARSHLAND:  After exiting from Kurobishi 3 pair lift walk towards the Grat quad lift and you can walk along the wooden path on the right to enter the Kamike Marshland.
3. HAKUBA SAN ZAN:  Hakuba's iconic three peaks soar high above the mountain resort. A stunning scene of Hakuba-yariga-take 2,903m  Shakushi-dake 2,812m  Shirouma-dake 2,932m taken anywhere along the hiking route would be an ideal photo.
4. AUTUMN COLOURS, AUTUMN FEELING: Not only the changing colors represent autumn change, the feeling of autumn such as the morning or evening sky, the blooming flowers or seasonal drink and foods can make you feel like it's autumn. Be creative and send us your autumn photo.
5. HAPPO-IKE POND: Part of the Northern Alps beautiful scenic spots, you need to hike up to the Pond located at 2,060m. The hike takes approximately 1 hour from Grat quad lift exit.
6. KUROBISHI SKYVIEW POINT: After the drive from the base of Happo, drive 9km up the winding road until you reach Kurobishi free carpark. Skyview point has a few chairs and tables set up, so you can take a nice photo.
7. WADANO NO MORI CHURCH: Before driving along the 9km scenic route to reach Kurobishi, stop by this classical stone, wooden and brick historical building. Feel a sense of harmony as the stillness and surrounding nature inspire your creative mind.
8. HOSONO SUWA SHRINE: Happo's magnificent shinto shrine and power spot. A walk through the forest, over the bridge and a climb up the stairs to pay respect to the Gods of nature brings an air of mystery. Please take a photograph of the big cedarwood tree which is over 1000 years old!
---
Important Information and conditions for registered participants
・Please follow our official Instagram account @hakubahappoone
・If your account is set to private, you will not be able to search for hashtags. Please set your account to public when applying.
Application Rules
・Entries must be taken by the registered participant not by any other person.
・You can submit as many photos as you like, as long as they have been taken on or after 11th September 2021 which is the start date of this event. In other words, you have to visit Happo-one between 11th September ~ 10th October 2021.
・The photos you submit may be used on our official Instagram, our official website and for any digital media promotion activities.
・We will not be held responsible for any violation of the subject's portrait rights.
・The organizer reserves the right to exclude your work from the judging process without notice if the organizer deems that the content of your work does not apply to the important information and conditions for participants.
For inquiries in Japanese, please contact Happo-one Lift Company Telephone: 0261-72-2715
※Some staff speak English