What's New
2021.05.02
Hakuba Happo Kurobishi Japan sake making project – Rice Planting experience tour!!
You make the sake in Happo!
The sake brewing  community project began in 2017, and this is the fifth year progressing. Our Junmai Ginjo "Hakuba Happo Kurobishi" has been very well received by our customers. Now it's time to start the fifth year of the project! This tour is the first part of a three series project; rice planting, harvesting and bottling. So why don't you join us  and learn how to make the much talked about sake in Hakuba!!
If you would like to participate please make a reservation by phone and call this number ☎ 0261-85-2870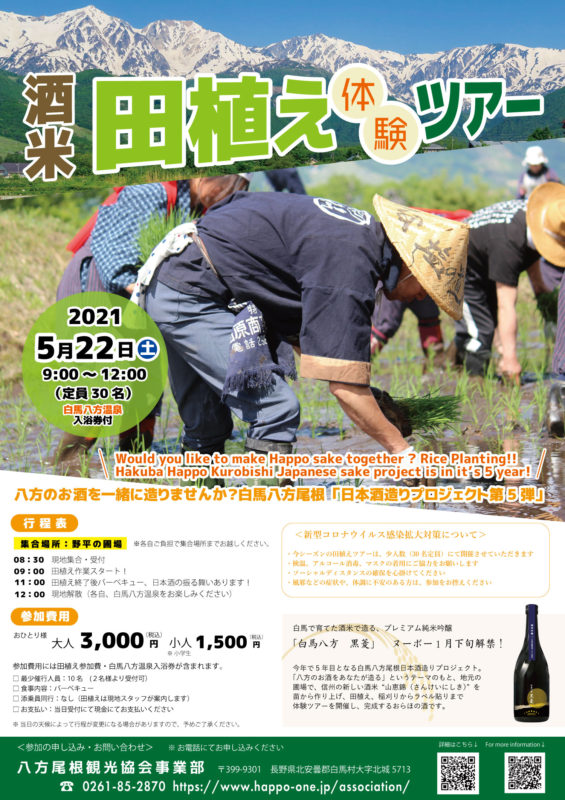 【Time Schedule】
Date: Saturday, 22nd May 2021
8:30: Meet at the site and register at the tent located at Nodaira rice field.
9:00: Rice planting work begins!
11:00: After rice planting, participants will make a toast together and have a barbecue! Delicious local food and sake will be served!
12:00: Event concludes. Please enjoy Hakuba Happo Onsen after the event, a complimentary ticket is included in the tour.
Participation fee: Adult 3,000 yen, Child 1,500 yen ※Tour is limited to a maximum of 30 people.
Here's a photo of the previous rice planting tour at  Nodaira rice field. You can see a spectacular view of Japan's Northern Alps.
Barefoot rice planting experience!
A special complimentary gift of sake is offered!!
If you would like to participate, please make reservation by phone and call this number now ☎ 0261-85-2870. We're looking forward to seeing you there!